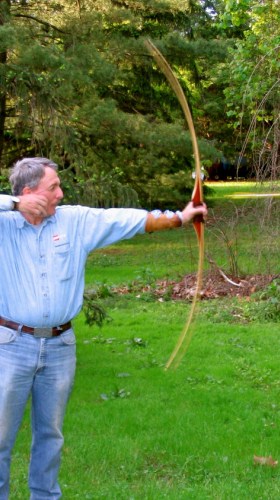 Hi, Welcome to my website. I would like to help you reach your goals in becoming a better traditional archer. I offer personal training and instruction to both beginning archers and those with experience (problem identification and resolution).
My background in traditional archery includes building my own longbows, recurves and accessories. Many archers are using my "Wallace Mountain" Longbows in their pursuit of a traditional archery experience.
I entered my first International Bowhunter Organization (IBO) competition in 2004. This started me into serious competition with my first IBO Longbow World Championship in 2006. More Championships followed in 2007, 2008 and 2009 (World Traditional). Two IBO National Triple Crowns followed – 2010 & 2011 Traditional World Champion, 2010 & 2011 World Champion and 2010 & 2011 Shooter of the Year.
What I have learned from my competitive experience is the importance of your SHOOTING FORM in laying the foundation for consistent improvement.
Along with proper form, I will teach AIMING SKILLS that will help you in both competition and hunting situations. I am a proponent of the "indirect" aiming method used by Howard Hill and other notable archers.
Feel free to contact me by phone, 740-373-8910, or by using the web form on the Contact page to find out more information. Traditional archery is my passion (especially the English Longbow). Get started now…
Thank you,
David Wallace